Pilates Mat Recommendation
Jul 24 2007
How to Choose a Pilates Mat
You want to choose a pilates mat largely based on the surface you will be exercising on. Harder surfaces require more padding to protect vulnerable parts of the body from injury. Softer surfaces require less padding - too much padding can create an unstable surface. The examples below, some of my personal favorites, will help you understand the selection process.
Texture, length, and color is all up to you!
Pilates Mat Recommendations
Pilates Mat for Hard Surface
For working on a harder surface you might want a mat that is thicker, like this one below which I use. (by Gaiam)
You can see, that the thickness of this mat is about double that of a thinner yoga mat. This really helps to protect vertebrae against the hard wood floor. Though it provides more comfort it is not too soft and the mat maintains integrity.
Pilates Mat for Hard Surface in Studio
Another great option, if you plan to leave the mat in your pilates working space, is the pilates mat made by Stott Pilates. It is made of a "closed cell foam" which cushions the body but also supports at the same time.
I absolutely love working on this mat, and in my opinion it is the best pilates mat. It is not easily portable, so it is best left in your home pilates space or at the studio.
*update: 7/23/08 Stott has added a strap feature to this mat, making it much easier to tote around.

Pilates Mat for Softer Surface
If you are working on a softer surface, like a carpeted area, you might want to try a thinner pilates mat or yoga mat. I tend to like this one by Gaiam for the material, size, and many colors.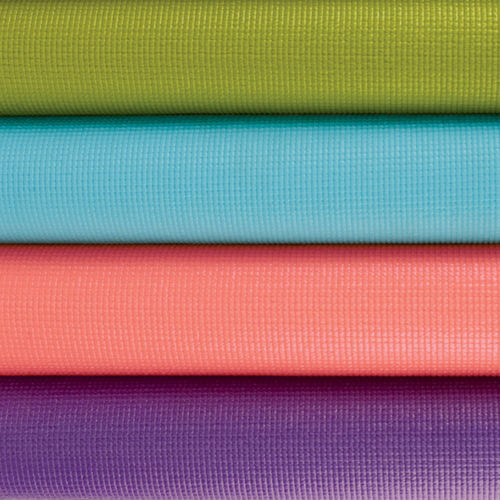 Yoga Essentials Mat - 68″
A mat suiting your needs (size and workout surface) will allow your focus to return to the principles of pilates… which does not include slipping, sticking, or scooting around on a mat.
Peace,
Zoe
More recommendations of small pilates props.
Recommended videos to guide your workout.